Chicago's Credit Union since 1926!
Chicago Municipal Employees Credit Union, the oldest active credit union in the State of Illinois, offers our members over 90 years of financial strength. Our roots go back to the early 1920s — a tough time in Chicago to make ends meet, even if you had a good job as a city employee.

In that era, banks catered exclusively to the wealthy and weren't interested in providing financial services to average individuals. If a working person needed a loan, the only options were often unscrupulous individuals charging unreasonable rates. Employees of the City of Chicago had steady work, but they were still vulnerable to these loan sharks. Then, members of the Municipal Employees Society got the idea to form a credit union.

Based on ideas that evolved in 19th century European agricultural cooperatives, credit unions were a new institution — member-owned, governed and organized solely to serve members, not to make a profit for stockholders. Operating "not for profit, not for charity, but for service," credit unions came to the United States right after the turn of the century. Growth was slow, as would-be organizers had to navigate a patchwork of state laws, but by the early 1920s there were nearly 200 credit unions across the nation.

So after months of planning, a group of Municipal Employee Society members submitted a letter in June 1926 to state authorities requesting a credit union incorporation. On July 2, 1926, Chicago Municipal Employees Credit Union became the sixth credit union chartered in the state of Illinois. CMECU established an office in room 207 of City Hall to begin enrolling members and accepting deposits. At first, loans were tough to obtain and required a cosigner, a practice that would persist until the mid-1960s. Still, city employees needed a safe place to save and borrow, and they joined CMECU by the hundreds, then thousands.

Through the Depression & World War II, CMECU helped members through difficult times. As the country enjoyed an economic boom after the war, the credit union continued its guiding principles, providing members with loans for "any prudent and productive purpose," and based lending decisions on individual character as well as financial means.

As new financial products and services were invented in the 1970s and 1980s, CMECU evolved into a full-service financial institution. As electronic services began to play a major role in banking, the credit union began offering Visa cards, access to accounts through automated teller machines, loans by phone and more.

Today, as CMECU celebrates over 90 years of service, we are expanding our territory and helping more communities by offering our products and services! Our organization is stronger than ever and ready to help our more than 15,000 members meet the challenges of the future financial world. While CMECU's founders might not recognize some of today's products, services and terminology, the credit union continues to follow the same tradition of service to members and their families, helping thousands live better lives and providing an enduring example of the power of cooperation and community.
1926-1966
In 1926, Chicago Municipal Employees Credit Union is officially chartered and opens an office in room 207 of City Hall.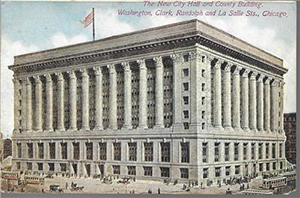 ---
In 1927, Chicago's first airport, the Chicago Municipal Airport (later known as Midway) is completed.
---
In 1933, the first Major League Baseball All-Star Game is played at Comiskey Park. Babe Ruth hits the first home run in All-Star history.
---
In 1934, Chicago Park District is organized.
---
In 1946, CMECU celebrates its 20th anniversary at 105 W. Madison with a three-person staff.
---
In 1947, the Chicago Transit Authority (CTA) begins local transit operations.
---
In 1955, Richard J. Daley is elected Mayor of Chicago for the first time. He was reelected in 1959, 1963, 1967, 1971, and 1975, dying in office in 1976.
---
In 1956, Public Building Commission is founded.
---
In 1964, relocated to 127 N. Dearborn, CMECU has grown to five employees and 5,000 members.
1967-2002
In 1967, On August 15, Chicago's Picasso statue is unveiled in the Civic Center Plaza.
---
In 1973, The Sears Tower is completed. (Although the building lost its "World's Tallest" title in 1996, it continues to be the tallest building in North America.)
---
In 1976, CMECU turns 50 as the United States celebrates the Bicentennial.
---
In 1981, the credit union begins offering checking accounts / "share drafts".
---
In 1982, the introduction of payroll deductions electronic processing spurs a boom in CMECU membership.
---
In 1983, Harold Washington is elected Chicago's first African-American mayor.
---
In 1984, CMECU reaches $14 million in assets.
---
In 1991, Comiskey Park, the oldest ballpark in baseball, is demolished, and the White Sox move to a new ballpark on the south side of 35th Street.
---
In 1993, CMECU relocates to 180 N. Lasalle, Suite 1600, begins offering Visa credit cards and becomes the first credit union in Illinois to offer a combination ATM/debit card.
---
In 1998, the Chicago Bulls win their sixth NBA Championship in 8 years.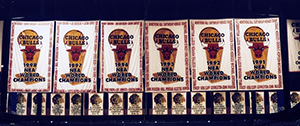 2003-2010
In 2003, CMECU relocates to 33 North LaSalle, Suite 300.
---
In 2004, CMECU assumes operation of Austin/ West Garfield Federal Credit Union, and opens the credit union's first branch office at 4909 West Division Street. Chicago Park District joins CMECU family.
---
In 2004, Millennium Park opens.
---
In 2005, Public Building Commission joins CMECU Family.
---
In 2005, Chicago White Sox win their first World Series in 88 years.
---
In 2007, CMECU starts offering fixed rate first mortgages and Home Equity loans. The City of Chicago Colleges join the CMECU family.
---
In 2008, President-elect Barack Obama makes his victory speech in Grant Park.
---
In 2008, the Chicago Public Schools join the CMECU family.
---
In 2009, CMECU adds online membership application to their technology services.
---
In 2010, the Chicago Blackhawks win the Stanley Cup.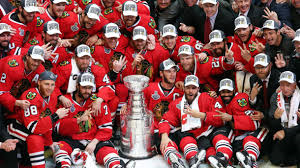 2011-2020
In 2011, CMECU celebrates its 85th Anniversary.
---
In 2011, 900 cars are abandoned on Lake Shore Drive due to a blizzard.
---
In 2012, CMECU moves to new offices on the 10th floor at 18 S. Michigan Ave. CTA, METRA, Grossinger Auto Group, G4S Secure Solutions, Golub Real Estate Services and Columbia College Chicago join the CMECU family.
---
In 2013, the Chicago Police Commanding Officers and Sergeants Credit Union and The Health Care Associations Federal Credit Union merge with CMECU.
---
In 2015, CMECU opens its third branch, new South-COS location.
---
In 2016, the Gage building owners, employees and vendors join the CMECU family.
---
In 2016, Chicago Cubs win their first World Series in 108 years.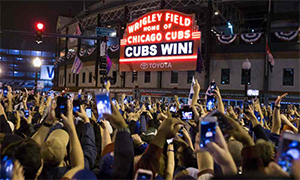 ---
In 2018, CMECU is approved for expanded geographical boundaries to provide financial services for additional residents, employees, employers and family members of those who work or live in Cook County.
Go to main navigation